Use Bemco's® Backpacker Ovens
for Camping and Backpacking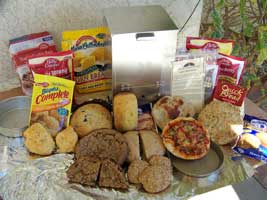 With a Backpacker Oven you can have biscuits for breakfast, baked fish for lunch (assuming you can catch one!), and pizza for dinner! What's your heart's desire? Make lasagna, make a cake, be creative. Anything that will fit inside can be baked anywhere you go. Take it car camping. Take it skiing. All you'll need is your choice of food, a stove, and a place to cook. It sets up in seconds, it heats up in minutes, and you will be serving a delicious hot meal that wasn't freeze-dried.
Cooking in the wilderness requires lightweight equipment that is both simple to use and durable. You are going to love how your Backpacker Oven works for you. Better take along a chef's hat!
See how the Backpacker Oven is set up in this YouTube video.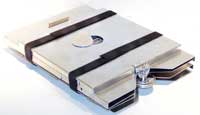 The Backpacker Oven only weighs 24 oz. without the cooking pans and gripper, and you can bake food, simmer soup or gravy, or keep water at the perfect temperature for hot drinks while you are baking items inside. It only takes 30 seconds to set up and only 90 seconds to reach 500°, saving you fuel and cooking time. With the Backpacker Oven you can bake the same items in the wilderness that you can bake at home. This makes packing foods easier and you can bring your favorite baking recipes to the wilderness when backpacking, camping, biking, or skiing, making the experience more enjoyable. The Backpacker Oven is much easier to operate and bake in than any other backpacking oven on the market today. It bakes items to the perfect golden brown that everyone likes, and food is not steamed or scorched on the bottom like with some other ovens on the market.
Bemco® Backpacker Ovens: proven with seven popular stoves.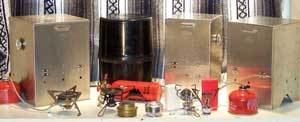 Field tested! Our ovens are perfect for the backpacker who enjoys perfectly-baked foods like biscuits, brownies, muffins, corn bread, or cookies. You can bake a dozen cookies (individual cookies, not just one big one!) and have hot coffee or cocoa at the same time, all with just one stove. This saves fuel and weight.
NOTE: Oven can only be used with stoves that do NOT have the burner directly attached to the fuel tank; burner must be attached with a fuel line and be remote from the fuel tank. This can be acomplished by using the Brunton stove stand for most canister type stoves. It is available in our online store.
Here are some treats baked with our Backpacker Oven...
All of them were baked in the 7" Backpacker Oven. The baking took a total of 105 minutes and used only 6 oz. of white gas in an MSR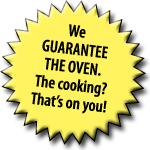 Whisperlite stove. We just added water or powdered milk and oil. All items are found in your local grocers; total cost of the items listed was about $12.00. Pack weight would be 40.5 oz. Total calories: 4225. You are getting over 100 calories per oz. of food.